Swarovski 8x30WB SLC Review
<![if !vml]>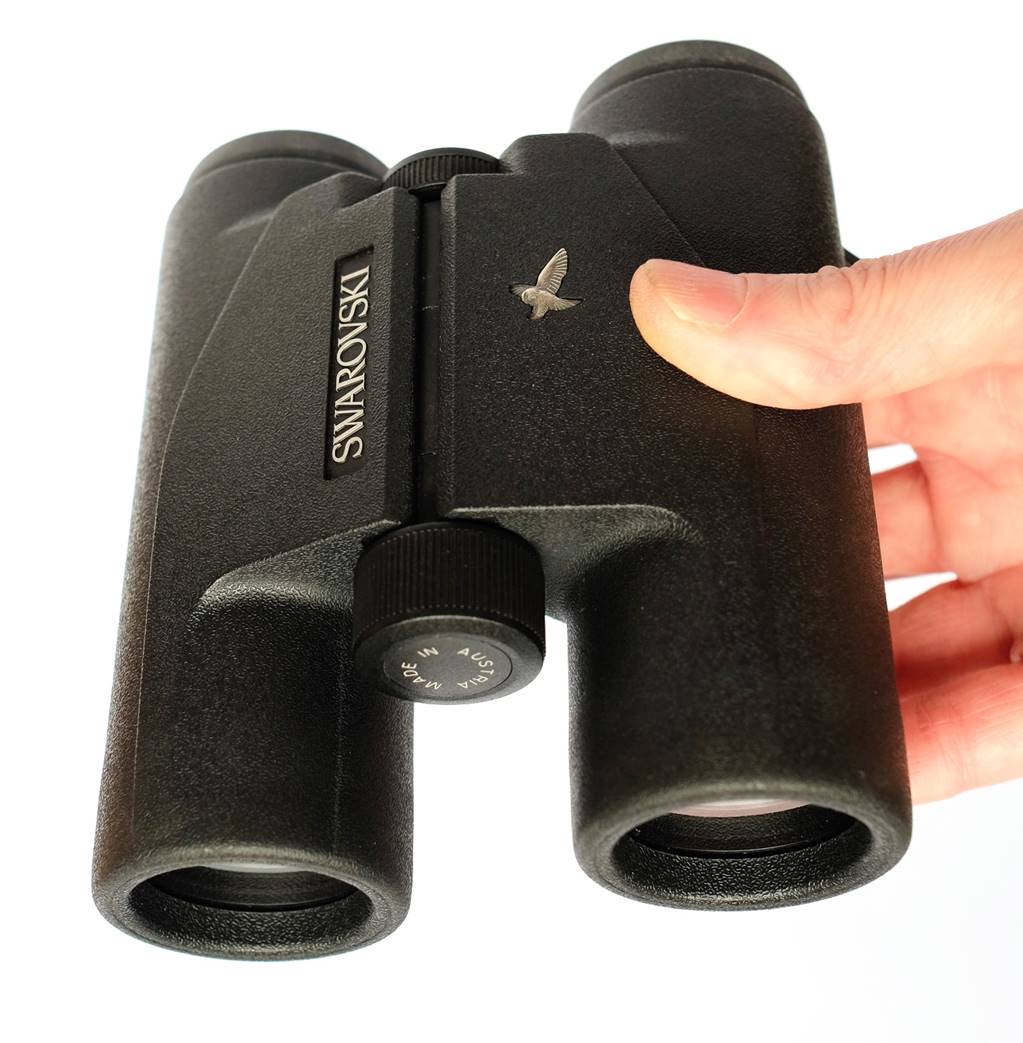 <![endif]>
Swarovski's 15x56 SLCs are my main astronomy binoculars. This is not because they are the most perfect binocular that I have tested, far from it. However, despite too much chromatic aberration and too little eye relief, they remain the best combination of big aperture, high magnification, high optical quality and light weight I have come across so far.
At the other end of the scale (literally), I need a lightweight pair to take walking and nature viewing. Experience has shown that anything much more than 500g is uncomfortable on long walks and won't get used, which limits the choice a bit. Swarovski had recently come up with a new contender in this area – the 8x30 CL 'Companion' and I was keen to try it. So I did, at my local camera shop.
The shop was, as always, friendly and helpful, but sadly I didn't feel the same about their Companions. Yes they were perhaps the smallest and lightest 'proper' binoculars I have tried. But I didn't think the view was up to much – a bit narrow, dropped off a bit towards the edge,  just not very special really; certainly nothing like the 8x32 Zeiss FL or even the (admittedly much heavier) 8x32 Nikon SEs. Worryingly, the view was not even as good as the old Nikon 8x30 Es. Worryingly, because though they may be the 'entry level' Swaro, they are still about £750, compared to half that for the Nikons.
So I didn't buy, but it got me wondering about the binoculars they replaced – the 8x30WB SLCs, the little brother of my 15x56s. So I bought a pair for a modest sum used. We'll see how they stack up against the CL Companions as budget choice for a lightweight birding binocular.
At A Glance
| | |
| --- | --- |
| Magnification | 8x |
| Objective Size | 30mm |
| Eye Relief | 15mm |
| Actual Field of View | 7.8 degrees |
| Apparent field of view | 60 degrees |
| Close focus | 4m |
| Transmissivity | ? 85-90% |
| Length | 141mm |
| Weight | 590g |
Data from Swarovski
What's in the Box?
<![if !vml]>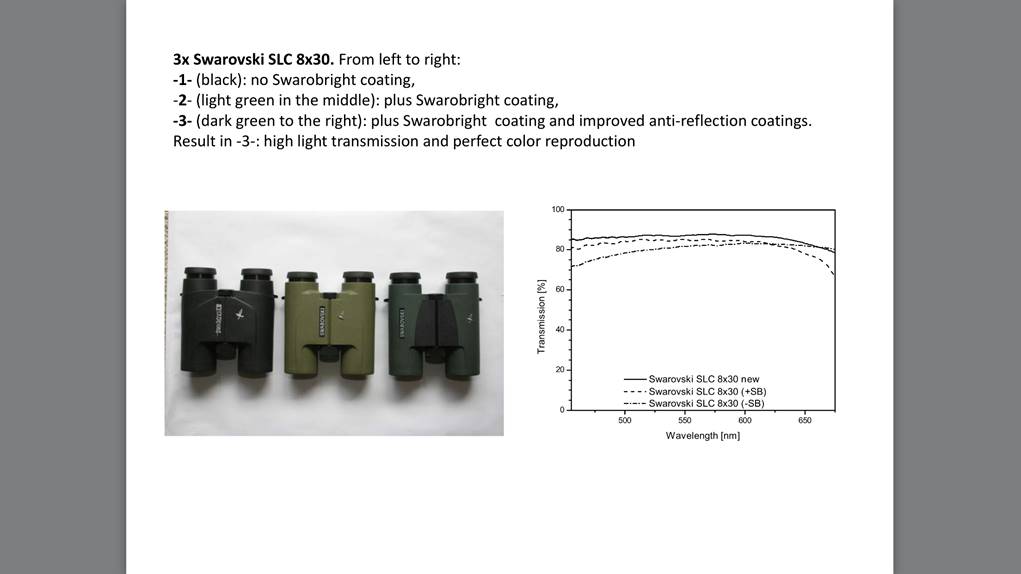 <![endif]>
The 8x30 SLCs come with the familiar SLC soft case and Swarovski cap and strap
Design and Build
An outmoded model they may be, but the 8x30 WBs run the Companions pretty close in statistical terms – just a bit heavier ( 590g vs 500g) and larger (141mm long vs 119mm), they are still small by other makers' standards; roughly the same size and weight in fact as Swarovski's own top-line 8x32 ELs. Very few "Alpha" binos come in lighter.
Body and Ergonomics
My little SLCs are the older (pre 'Neu') model, but I don't think the differences are great.
You can immediately tell these are Swarovskis because the build quality is excellent – no concessions to an 'entry level' model here.
The body is aluminium and is full sealing against water ingress to 4m. The back of the barrels have thumb indents for added comfort and the heft of the binoculars is perfect.
<![if !vml]>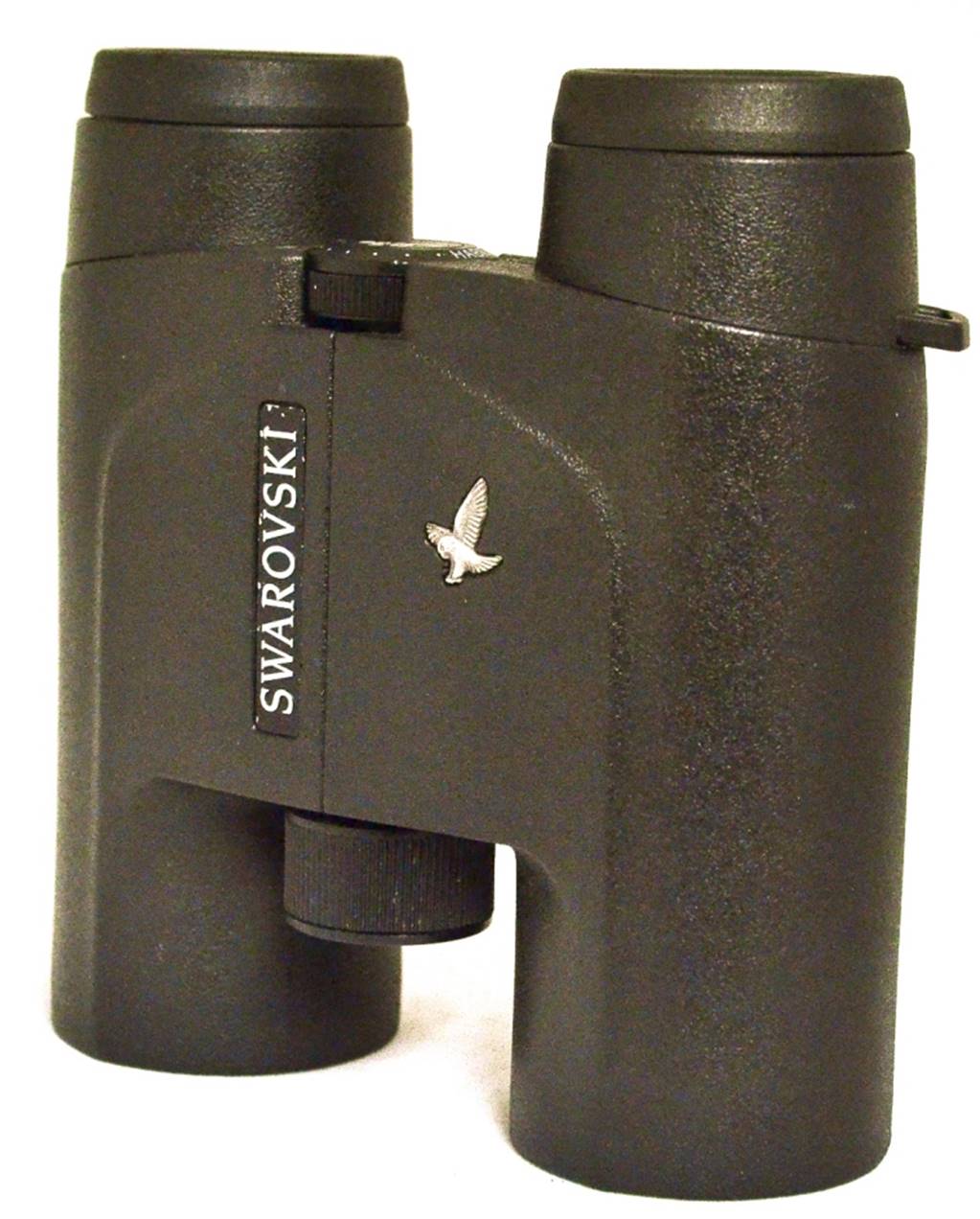 <![endif]>
Body has cutouts for extra comfort - typical of the SLC range
Focuser
The focuser (unusually, but usefully for me, placed at the front of the bridge) is very smooth and accurate. Dioptre adjustment is in the place you usually find the focuser knob; it's nicely weighted and precise too.
<![if !vml]>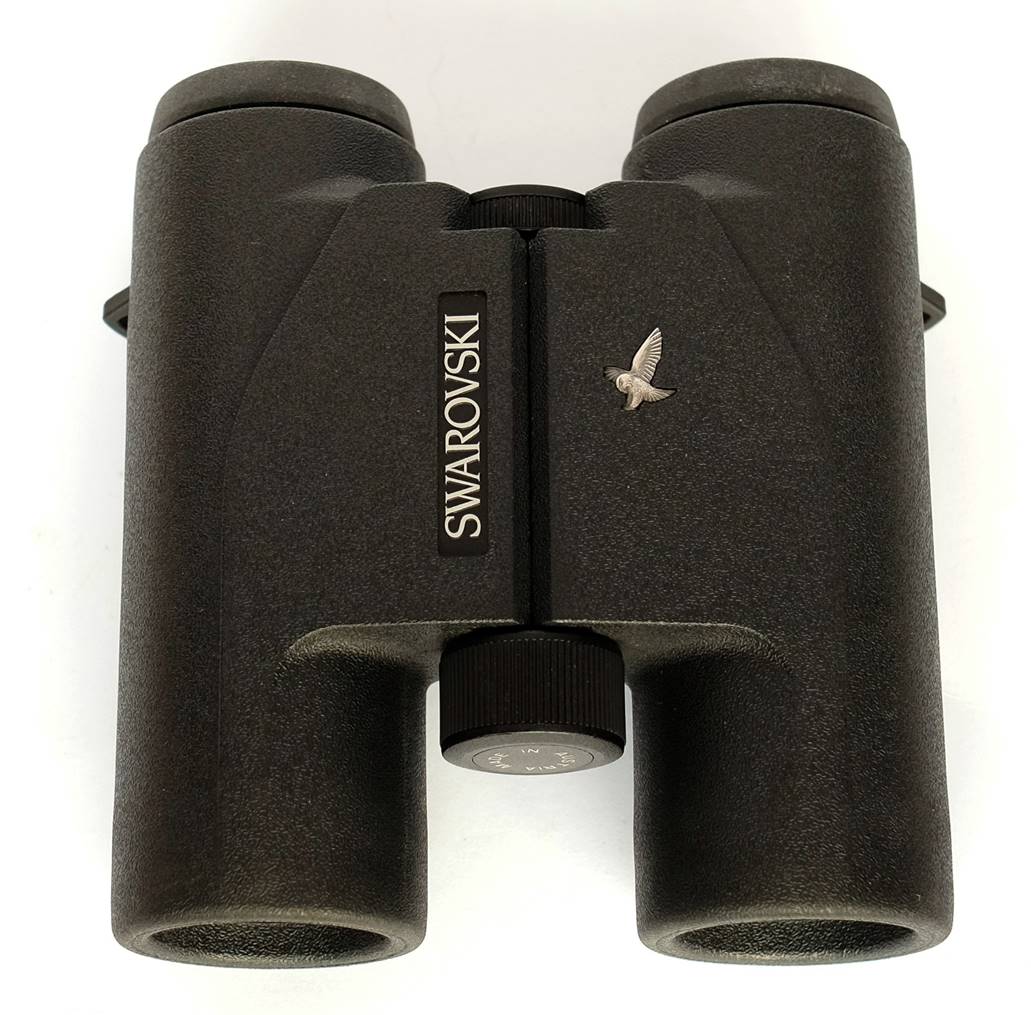 <![endif]>
Dioptre adjustment is at the back of the bridge, where the focuser usually is
Optics - Prisms
The 8x30 SLCs have conventional roof (Schmidt-Pechan) prisms. The prisms have the essential phase coatings and also the 'SWAROBRIGHT' dielectric mirrors for optimum light through-put. There's nothing old-fashioned about the optical spec' of these.
Optics - Objectives
The objectives are of triplet design using conventional (i.e. non-ED glass). It's a design that is a bit challenged in the 15x56 format (because false colour increases with both objective size and magnification), but should be adequate in an 8x30.
The objectives have top-quality multi-coatings that look impressively dark.
Optics - Eyepieces
Looking at the numbers on the view, you can start to see why I wasn't impressed with the Companions. These old SLCs have a field 0f 7.8 degrees, which translates to around 60 degrees apparent, similar to most modern premium binos. The CL Companions have just 7.1 degrees (55 degrees apparent) by comparison, which looks a bit narrow in use.
Both models have the same claimed eye relief of 15mm. I measured the SLCs at 14mm, but in either case it's just enough to see the whole field with specs, but not as generous as I would like.
The SLCs have multi-coated eye lenses and click-stop eye cups with plenty of adjustment.
<![if !vml]>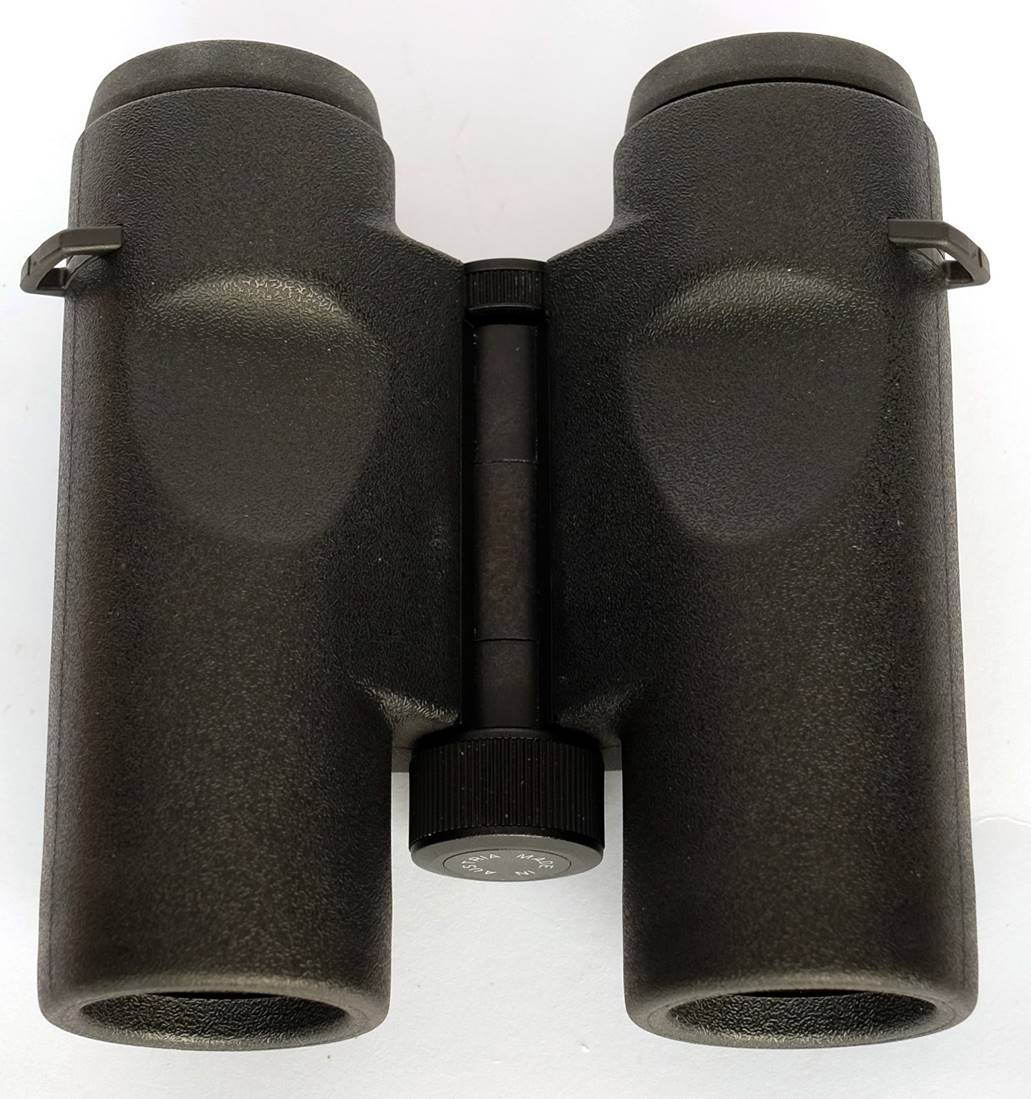 <![endif]>
Accessories
The 8x30 SLCs have the soft case that is standard across the older SLC range. It's decent, with a classy badge, but offers no padding.
The strap and articulated eyepiece cap are standard Swarovski and excellent.
<![if !vml]>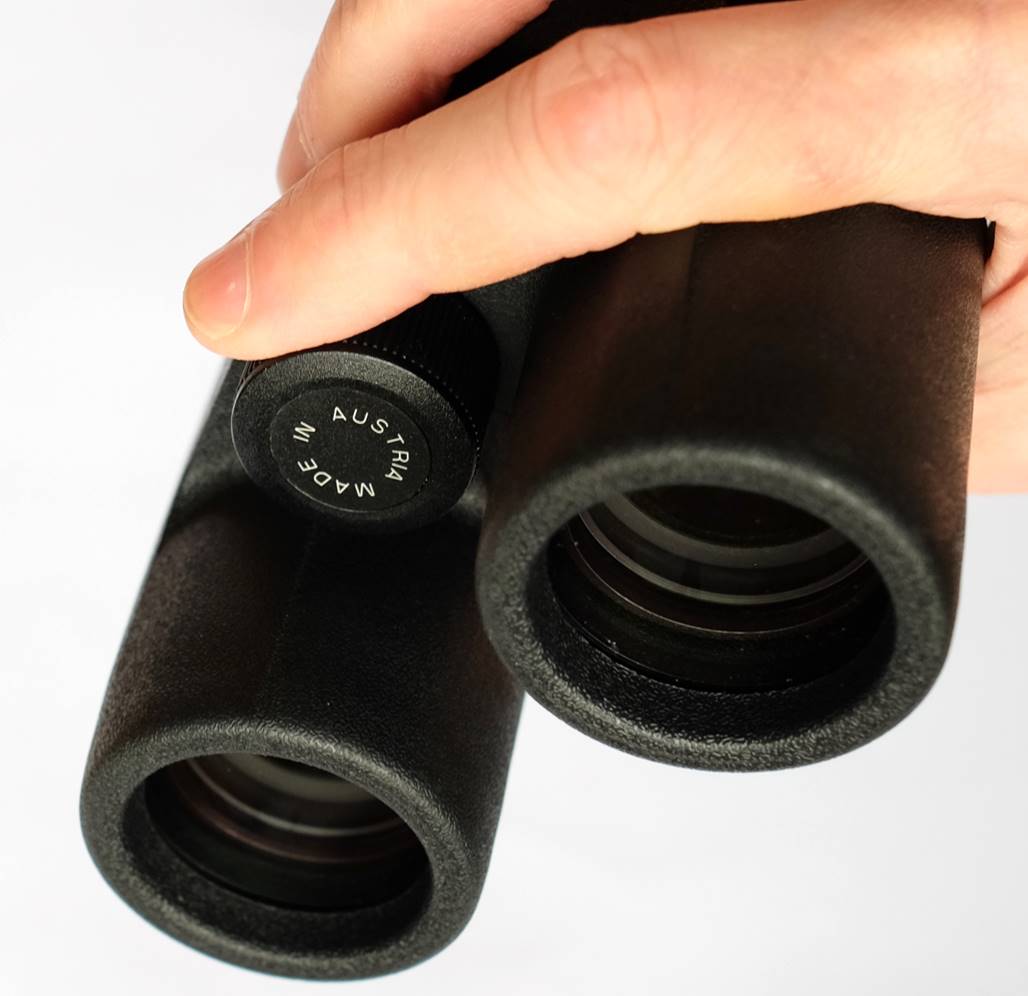 <![endif]>
In Use – Daytime
Ergonomics and Handling
Handling in the field is good and the small size and lightweight make these a pleasure to walk with. I personally like the front focuser once I got used to it, but I know others don't. Focusing is very smooth and accurate.
The View
A slightly older design they may be, but I really like the view through the 8x30 SLC – it is wide, sharp and bright with masses of detail on axis and doesn't drop off badly towards the edge either. Colour rendition seems very natural too.
If the first impressions are good, nothing changes as you use the little SLCs. Internal reflection and ghosting are extremely well controlled, in typical Swarovski fashion, so using these around water or snow would not be a problem. I could see no problem with ghosting as some have claimed.
Both barrels come to focus with that definite snap that is typical of good optics.
Looking at plumage or other subjects with a lot of fine detail, the impression is of very good resolution. The eyepieces are comfortable, even with my specs on and blackouts are not an issue as they can be in other designs with a wide field.
Flat field?
The field is surprisingly flat and well-corrected (much like the 15x56's field, in fact), despite no claim to field-flatteners.
Chromatic Aberration
There may be no ED glass, but chromatic aberration is well controlled by the triplet objectives and certainly is not the issue it is in the non-HD 15x56 SLCs (i.e. pre-2013), which have rather too much.
In Use – The Night Sky
In use at night they work well, but the 8x30 format doesn't really collect enough light for astronomy; 42mm objectives are really the minimum for 'serious' astro' use.
Nonetheless, stars are pin-point and they passed the 'Jupiter test' with no undue smearing of light by the prisms as many binos do. The Moon looks good through them, too – nice and white and sharp, with no nasty false colour.
The 8x30WBs would work fine for a bit of casual astronomy now and then.
Summary
It's hard to criticise the 8x30 WB SLC. No they aren't as 'perfect' as a Swarovision EL, with a little more CA, field curvature and a little less eye relief. But in general I found they gave nothing much away to other premium binoculars in this size, despite being substantially less expensive. I definitely preferred them to the newer CL Companions (but that based only on a brief test).
I notice these are rare used and prices are holding up well. No surprise there.
The Swarovski 8x30 SLCs are highly recommended if you can find a good pair used.
<![if !vml]>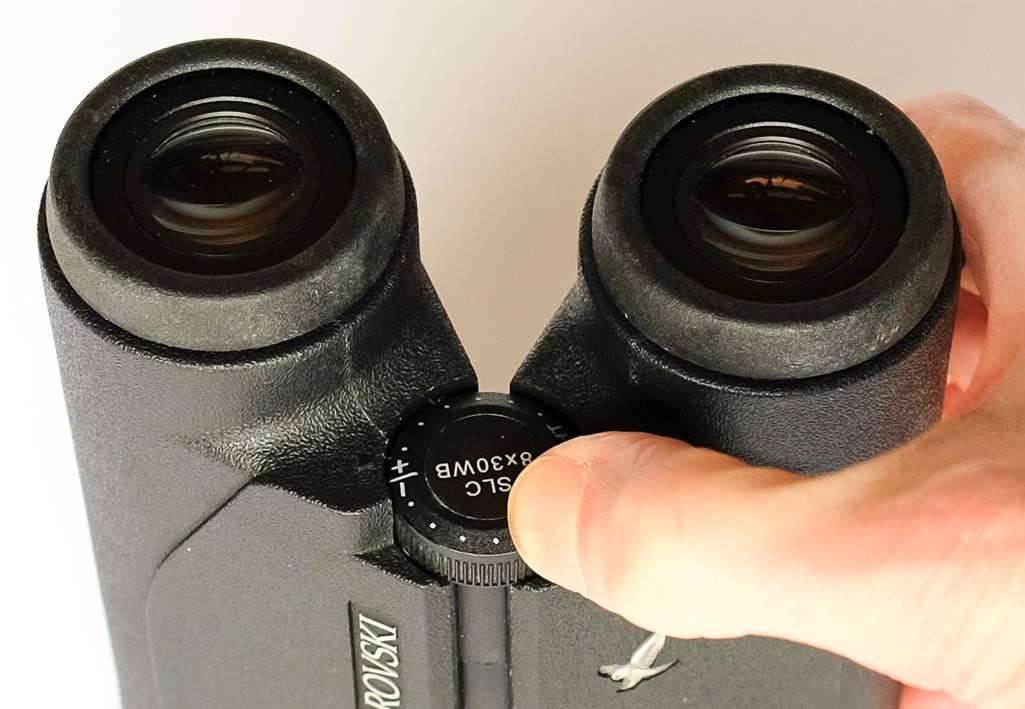 <![endif]>